The Most Secret Operation In The History Of Mankind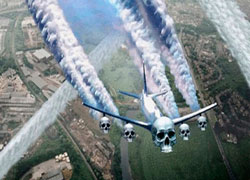 More and more often, ordinary people around the world notice strange traces of planes in the sky, which were not there before. They hang over cities, intricately crossing, for hours, gradually expanding and gradually covering the sky with some kind of mist. These flights of planes are happening every day more and more intensively, but neither the official authorities, nor the media do not notice this point blank. The topic of chemtrails is absolutely taboo. What is happening in the sky above our heads?
In popular culture, chemtrails have over 16 years come to be associated with controlling the world's population, a sinister conspiracy to control the mind or even the genetic code of humanity, and other far-reaching theories. The statement of ex-CIA director John Brennan, made in 2016, also added fuel to the fire.